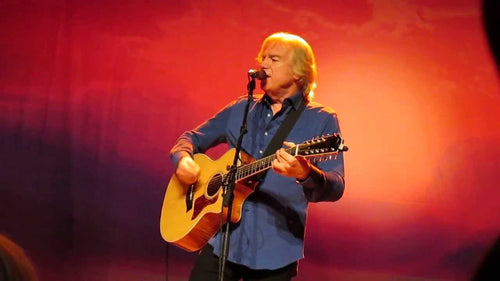 Fri, May 01, 09
From Justin: 'Legends and Lyrics'
In February I went to Nashville to be part of a live show called 'Legends and Lyrics', at the invitation Rick Sanjeck and PBS television.
The show is a bit like Austin City Limits – which I always really liked – but it's set 'in the round' with three songwriters taking turns to sing their songs and introduce them with a story or to discuss the context.
Being in Nashville is always a good experience, and it was one of the most inspirational weekends I have had for a long time. Every musical detail seems to be thought through in a unique music town like that, and the performance itself - and listening to the two other guys with me on the show, Richie MacDonald and Matt Scannell - was a joy, apart from thinking, "Wow, I've got to follow that brilliant song!".
The setting of the Masonic Grand Lodge of Tennessee is excellent acoustically and having seen a bit of the video and heard some of the audio recently back home in Italy, I really hope that I get to work with Rick and Will (the director) and all their crew again one day. – Maybe with the Moodies – who knows?
Meeting, and playing with, two very beautiful and talented people, John and Megan Bohlinger, also enhanced my trip.
John was recommended to me by Rick, and what a recommendation! He was already familiar with the songs, but only when I got to Nashville did I realise how sympathetic he was going to be to the 'feel' of each of them.
After hearing John play guitar, (the day before the show) I knew when he mentioned that his wife Megan Mullins could be just right on violin for the songs, that the three of us were going to 'gel'. Music is great for making friends.
Check out John at: http://digital.premierguitar.com/premierguitar/200905_1/?pg=199 and http://johnbohlinger.com/
And look out for the Legends and Lyrics series on PBS.
I left Nashville on a lovely bright clear day and flew straight to Dublin where the clouds were hanging waiting to open. I was there to sing Forever Autumn on a late night TV show, and the promotion people from Jeff's War Of The Worlds had fixed up loads of radio and print interviews as well. It was a case of from the sublime to --- well, the Irish version of sublime!
I was welcomed with such warmth that it chased away all the rain, and somehow made a hotel and town (full of English and Irish rugby supporters, all there for the 'big game' – which by the way Ireland won) come alive and buzz for me. The Moodies have played so rarely in Ireland (I don't know why) that when one of us turns up all the doors are opened for us – or is it just that the Irish are like that with everyone, even the English? – Probably!
It was a whirlwind couple of weeks anyway, and when the Moodies tour kicked off at Rancho Mirage a few days later it was a like going on holiday (if you can have a holiday sleeping on a bus!).
Since the tour I have been spending time in a couple of different recording studios working on a few different projects, as well as trying to keep the plates of everyday life 'spinning', as we all have to do. (Can you imagine the mail you come home to when you spend so much of life on the road, as well as all the things that need fixing, metaphorically and physically?). I know you can. I've also been taking care of other pleasurable duties and responsibilities, and the patterns and colours of life are sometimes remarkable.
I hope that the Isle of White 1970 DVD is well received. I am finding that if friends come by my place and see it on the desk they invariable say 'oh go on, play it' and then they sit there mesmerised for 75 minutes. But I do hope it does well, especially for Murray Lerner's sake (another new friend!) who has worked so hard (in 1970 and in the last couple of years), on this project.
How the World has changed in the 40 years since it was filmed – and how the world had changed in the last year. Even those following a life of solitude and spiritual devotion (a tempting path to follow) must sense something different in the air.
Maybe we really are approaching a crossroads.
I have heard lots of nice comments about the Tuesday Afternoon Visa ad. I have only recently learned of it myself and now after seeing it I'm pleased, for the song, that it is well put together and actually quite beautiful.
I'm trying to put a few things in order now ready for the coming summer of mega touring. I start the WOTW rehearsals in a few days, (although I do kind of know my bit) and there are some new performers taking part this year. It will be great to see Shannon again from Australia who is playing Parson Nathaniel, and I am sure the British and Dutch fans will fall for him in a big way, just as they did 'down under'.
From the WOTW I go straight on to our new summer USA/Canada tour, and I'll eventually flop on to my own bed again in mid September all being well.
See you before that I hope.
Love
Justin
All, all of a piece throughout:
Thy Chase had a Beast in view:
Thy Wars brought nothing about:
Thy lovers were all untrue.
Tis well an Old Age is out,
And time to begin a New.
Dryden