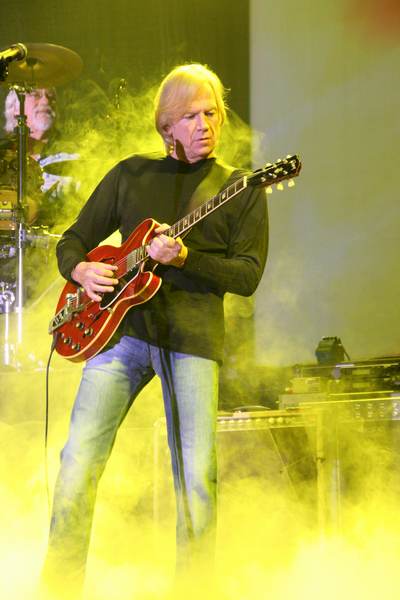 Thu, Jun 01, 06
As I was walking into the Point arena in Dublin a couple of weeks ago for the 'War of The Worlds' tour, a voice called out to me "Justin, 'tis yourself, great to see you". It was nobody I knew, but he knew the music all right, and the phrase is so charming and friendly that it brought back a lot of memories.
I used to come to Ireland a lot in the late 70's and early 80's, to be with the friends that I had made through being involved with horses, and sometimes to buy and sell bloodstock at the sales.
It had all started in the mid 70's when my friend and I had realised a dream for both of us and had turned what was previously a rather broken down arable farm on the Wiltshire Downs in England's West Country, into a beautifully equipped and professionally run stud where we looked after mares and foals (as well as thoroughbred racehorses who were resting out of training over the winter months). It was down some country lanes not far from where I had spent my childhood, and I knew the area, and it's people well. My own horse from Cornwall spent some of the last years of his life there, and he loved it too. In end the farm kind of outgrew me, and my life had changed a lot, so we both moved on.
Back to Dublin though; it is such a beautiful city and it was only on that last night of the tour that I finally realised "this is brilliant! ~ this has been a wonderful tour and it's been a privilege to be part of it". So much of the previous four weeks was concerned with worries like 'will it actually work?' and' what challenges does tomorrow hold?' Logistically it was quite difficult too, for the musicians and singers, but especially for the excellent crew. The effort they put in was phenomenal.
Those who did most of the tour as members of the audience know only too well that the routing was awkward and illogical a lot of the time (I didn't disillusion some of the other performers, who didn't know the Moodies fans, when they assumed that the familiar faces each night were there just for them). Meals had to be snatched when possible and hotels had not been scouted in advance, as is the case on Moodies tours.
Each day there was a full sound check (something rare on our gigs, only because we know each other so well and our crew usually take care of it). But 'The War of The Worlds' is something different, and that many musicians and that much equipment needs to be constantly monitored and tested.
It was also a new experience for me in many other ways. One of which was that I had never sung on stage before without a guitar to hide behind, and to make the music I was singing to, if you know what I mean.
What to do with my hands? I decided the best thing was nothing!
The head mics that we wore were attached by wire loops over the ears so that the microphone is always rigidly suspended in front of the mouth. Gary, the sound engineer tried a couple of different types for my voice before he was happy.
The only drawback for me was that I am used to 'working the mike', in that when I want to sing gently I can normally come right in to the microphone, and when I'm at full voice I can move away, kind of like doing my own follow fader. That's not possible of course with head mics, and it takes a lot of getting used to. In the monitors, with this head mic system, when you sing quietly you can't hear yourself, and when you are hitting the top notes it's really, really loud.
We used 'in ear monitors' as we use in the Moodies (I brought my own to use on TWOTW), which some of the other guest artists had never used them before. They are a must nowadays, especially as none of the guitar players on stage had amplifiers. They were all going 'direct in'.
What players they were too;
Hugh Burns, now acknowledged as one of the 'greats' in recording circles, and Laurie Wisefield, who has the smoothest style and quickest changes of any guitar player I have heard. Chris Spedding, ~ well, just look on the Internet, a true legend, and on bass Herbie Flowers, probably most famous for the double bass riff on 'Take a Walk on the Wild Side', and truly one of the nicest men in this crazy business.
Chris, Herbie and I were on the original record together and the years just melted away on this project. And of course, the man in the middle, Jeff Wayne my buddy and partner. What courage to even attempt a show like this, and what a triumph to actually pull it off.
I knew Gordon would be the right drummer. I told Jeff he needed him as soon as the idea of doing TWOTW on stage began.
I shared a dressing room a few times on the tour with Russell Watson who besides having one of the most powerful and moving voices in the singing world is also very funny, and we shared some good times during the four weeks. Sometimes Britain does not give great singers like Russell the credit due, but I think in time it will dawn on people how valuable and special voices like his are. It would be an honour to share a stage with him again any time.
So, yes, in the end I had a brilliant time on the tour. The music is so moving and as I have said before, I would go anywhere to sing Forever Autumn.
Also, to walk on stage every night to the sight, and sound of dozens of the prettiest string players in the world is daunting and wonderful. I hope Jeff asks me again next time!
I'm whizzing off down Italy's A 10 auto-route again next week to help re-master the final two of the 'classic first seven' Moody Blues albums. Alberto has the original masters now and Danilo is coming along to oversee the whole thing. It's going to be fab! The out-takes on the bonus CD's of these last two contain tracks, recorded with Mike after Seventh Sojourn, that I thought were lost forever.
I think anyone who has the first five recent re-mastered albums will agree with me that they are the only versions worth having on CD, and Mark Powell and Joe Black at Universal have delivered a stunning collection, visually and sonically.
I cant wait to get back into Moody Blues music again, new and old, and I'm really looking forward to seeing the guys again in the summer and planning the whole UK and Europe tours coming up in September and October. I've done a few interviews lately with Eastern European journalists and I'm always a surprised and moved at the depth of feeling for the band across Europe and beyond.
We will get to play there won't we?
Love,
Justin
From the writings of the poet Rainer Maria Rilke;
"The longer I live, the more urgent it seems to me to endure and transcribe the whole dictation of existence up to its end, for it might just be the case that only the very last sentence contains that small and possibly inconspicuous word through which everything we have struggled to learn and everything we had failed to understand will be transformed suddenly into magnificent sense.
And who can be sure if in the realm of the beyond it might not somehow matter that here we had reached precisely that end that was ultimately meant for us. There is also no certainty that new challenges might not confront us on the other side while we flee from here completely exhausted - challenges that the soul, as it finds itself shaken and without having been either summoned or prepared, would face even more than other tasks with a sense of shame".
NEW FALL SHOW ADDED
Third Amsterdam Date Announced For The Fall Tour!
A third show has been scheduled for October 20th in Amsterdam this Fall. The MoodyBluesToday Presale on 4 Star and 5 Start ticket Packages will begin at 9am EST on Monday, May 22nd, 2006. Click Here for details.
NEW CONTESTS
Check out the NEW Contests on MoodyBluesToday.com including tickets to see the band's OC Fair performance in July.
There are more contests for the OC show, new video footage of the band and more exciting features on MoodyBluesToday.com Coming Soon!!
SPREAD THE WORD!
UPCOMING EVENT
BORDERS Store Appearance by The Moody Blues!
Justin, John & Graeme will be signing copies of their latest release, "Lovely To See You: Live at the Greek."
29 July: South Coast Plaza Borders, Costa Mesa, CA from 1-4pm
For more details & directions: MoodyBluesToday.com
TICKETS AND TICKET PACKAGES FOR 2006 SHOWS
Tickets & Packages Still Available For The Fall Tour
Visit the MoodyBluesToday BOX OFFICE for Ticket Packages while they are still available!
Box office link: Click to visit...
27 September: Devon, UK (4 Star)
29 September: Bristol, UK (4 Star)
03 October: Glasgow, UK (4 Star)
04 October: Newcastle, UK (4 Star)
06 October: Ipswitch, UK (4 Star)
07 October: Brighton, UK (4 Star)
11 October: London, UK (Member tickets)
19 October: Amsterdam, NL (4 & 5 Star)
20 October: Amsterdam, NL (4 & 5 Star)PRESALE STARTS 9am Monday, May 22nd
Tickets Available For The CA Show
30 July: OC Fair, Costa Mesa, CA
MoodyBluesToday Festival Ticket Packages have SOLD OUT! There are still tickets available to the show through Ticketmaster.