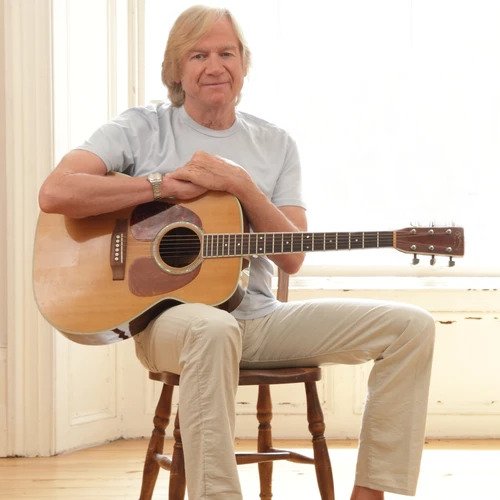 Mon, Dec 01, 03
From Justin: 'December' issues
December 2003
I finally got home and started to unpack my case the weekend before Christmas... and now I am still ploughing through the mail, emails and requests that have to wait while you put your life on hold for a couple of months that include a Moodies tour.
After doing a lot of promotion for the December album in New York, I came back to more interviews and acoustic sets for radio and TV in the UK leading up to Christmas.
In Britain the album has been coupled with a compilation called "The Ballads", so it got a bit confusing sometimes knowing which album I was promoting. But "December" was well received there too and I have just today found out that it's the Radio 2 'Album of the Week' this week, the 29th of December.
By the way, many in the UK will have noticed the inner sleeve and lyrics of the British versions contains lots of errors, not least of which is the wrong photo, along with the misspelling of my surname. "Who cares" I hear you cry, well the three people in the photograph for a start and the rest of the Hayward tribe as well. Sheer incompetence by the record company I'm afraid, who used an old rejected (because of the mistakes they had made) version of the layout. Do you think some other Mr. Heywoods and Haywords will be pleased to get credit?
I am glad to say that the US version is almost right, except that they chopped up Lucio's wonderful artwork. There is a big "whoosh" of a star at the top of the original artwork which I loved but now has gone. I am sure the complete artwork will be available somewhere and I have included here the original idea as I saw it in my mind, sketched by Lucio. You will have noticed that the boy on the front cover first appeared on LDV (we did not have a title until the day before delivery of the album).
The new songs were a pleasure to play on stage, and when we had finally sussed out where in the set to put them (only in the last week of the tour), they worked as well as anything we had done. The first time we did 'December Snow' it felt just great and I hope I can keep it as a part of the show even in the summertime. I do thank all of you who have written to me with their thoughts on the new music, it's so nice to know that others understand and feel it. There were a couple of cover versions that I was not convinced that we needed to include on the album, but I believe it has all turned out for the best and that it is maybe one of our most accessible albums.
I am constantly surprised by the affection for our music from the most unexpected quarters, and during this last round of promotion I have met many people, presenters and d.j's, who were only children in the seventies and really like the records the band and myself were making then. I have to thank all of you for keeping this music alive and popular. In the UK, 'Forever Autumn' is especially fondly received. In fact, many think that it was a Moodies record, but if I am on my own at a radio station with a guitar I am only too happy to sing it. Having just done a couple of live tellies, I realise that most of the current chart acts turn up for these shows with a tape and do a karaoke version of their song, but you can always tell it is not a real performance. Can't you?
I really enjoyed this last American tour. We had a new tour manager for the first time in many years and the whole experience was professional and smooth. I love the way the band plays now and sometimes I think we are truer to the original feeling of songs than at any time in the past. I say this because when we would first perform a song 'in the old days' we would discard a lot of what was on the record to make the stage version easy, and it was too much of a compromise for me sometimes. Also, I could never get an acoustic guitar to sound right on stage before I had my Olsen.
I'm starting to prepare for the performances of Gaia in Zurich, the 21st to 25th of January, and I'm looking forward to spending time with some fab musicians and artists that Alan Simon has brought together. It will be on TV as well.
I don't know what the rest of 2004 holds yet, apart from the gigs that are set, but I do hope that you will be with me to share it, and that it will bring us love, happiness, good health and peace.
Love Justin
A quote by the composer Shuman
"People compose for many reasons; to become immortal; because the piano
happens to be open; because they want to be a millionaire; because of the
praise of friends; because they have looked into a pair of beautiful eyes;
or for no reason whatsoever."