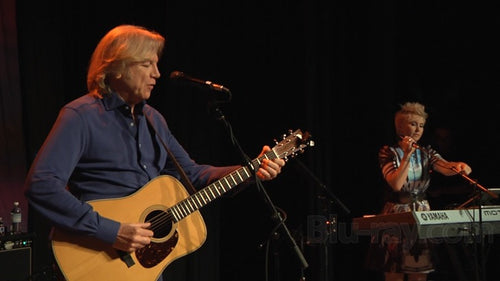 Tue, Mar 01, 11
From Justin: '101 Albums That Changed Popular Music'
"Yes, but the music of today won't last, not like yours" – people often say that. It's always meant as a compliment but it's not true of course. The music of today will be the music of tomorrow and for all time, as long as people fall in love to it, make love to it and hold it in their heart. I think we all especially love the music of our youth. It stays with us forever and in my case has never diminished.
For musicians, maybe the biggest difference now as opposed to in the nineteen sixties is that we had the ultimate musical hero's, The Beatles, in our midst. It's hard to understand nowadays how much of a presence, influence and sort of ultimate umbrella on our aspirations they were for all of us young musicians then. To be in a band, in London with The Beatles around as our unchallenged leaders seemed to provide space for the rest of us to work in – they were Gods. We were all flying – they were out in the Cosmos.
There is an excellent book just out by Chris Smith called '101 Albums That Changed Popular Music'. It's a 'must have' book for album lovers and I was thrilled to see that 'Days Of Future Passed' is included – in fact I fully expected it not to be, as our fans know only too well how often we are overlooked in the story of popular music. The section on 'Days' is maybe the best and most honest account of the events surrounding that album and what led up to it that I have seen in a long time. It's completely devoid of the inaccurate 'spin', which some are tempted to put on recalling those times and, apart from a couple of dates (it comes from a USA release and chart timeline perspective) it's an altogether perfect bit of research. It's the same for the other 100 LP's too, and I was around a few of them.
I mention it in the context of the preceding paragraph because the music of my youth was so important to me, and included lots of the albums in Chris's book. But when I first came to the Moodies in the early autumn of 1966, even at the age of only 19, I think I was close to giving up on making it purely as a performer, only because I believed, and still do today, that my professional life would really be about song writing. I came to the group as a songwriter masquerading as a singer guitar player! The interesting thing was that we were all masquerading as R&B musicians.
Looking back, in 1966 we were probably one of the groups struggling in a futile attempt to establish themselves as different from The Beatles (who had moved on quickly to doing their own songs) by following a very different path and in a way rebelling against the musical honesty that the Beatles had in abundance in an effort to gain some weird authentic credibility. That 'cred', which most times centred around 50's and early 60's Blues and R&B music, was often embarrassingly exposed when British groups went to the USA or when you saw the original artists in the London clubs. I think it was sadly transparent and only the real British greats of the genre, which was very popular amongst musicians if not audiences in the UK then, have made it work for them and genuinely play it from the heart. It's their style and it's brilliant.
We all had our roots in Rock and Roll and that will be the greatest music ever – to play and to listen to. That will never change. But we need to make our own to really contribute.
I'm just saying – and it's just my opinion.
Thank goodness that since then so many tremendous artists have created new R&B and Soul sounds, and taken the whole thing to powerful new, original and exciting heights. Most great records have soul of some kind, that's what moves us all. From the first moment we were together soul and swing were essential. It just took a while for us to express it our way.
One of the first things that happened when I joined the band was to get fitted for my Blue suit (which I still have and recently I was re acquainted with the man who made them for us all – I didn't remind him that I don't think we ever actually paid for them) and with my new Telecaster and a Vox amp I loaded into the van for our first gigs – a few weeks in Belgium.
An agent called Ricky Stein who lived out there, generously offered us the work and a club to practise in, and we stayed at a small guesthouse called Madame Elaine's (I think I mentioned it in a song on Octave) in a town called Mouscron, very close to the French border. All the promoters at the gigs we played expected the band to do the same material that the previous line up was known for – in fact that's the only reason we were offered any work at all and so we worked up a set almost exclusively made up of the past line up's material.
I had persuaded the other guys to do at least a couple of my songs in the set – 'Fly Me High', (a very different version from the one produced a couple of months later by Tony Clarke - our first recording with him), as well as a song called 'Cities' which I had had around for ages. Mike was also doing 'Really Haven't Got The Time' which I loved too. But the 'new' songs were often met by polite applause at best, or a stony silence.
I remember that Ricky was very tolerant, you could say kind to us, and he was our lifeline then (one of the band paid him the dubious compliment of sleeping with his girlfriend – he had plenty of girlfriends, no worries). But I did feel that there was one very telling aspect of being together in those early months and that was that we laughed so much until we cried every night (some of us, especially me, were a bit stoned as well and most things were funny). The fact that we weren't particularly great at that style of music in a way gave us something outside the band's set to rally round, and that was humour. I have never laughed so much. We were great together – offstage. That was the bit I didn't want to change.
Express yourself, make your own music and go your own way. That's what the Beatles did.
Even though we managed to record a few original songs in the weeks after our Belgium/France experience, with Mike still playing pre-melotron piano, including the new Tony produced 'Fly Me High', we continued wearing the blue suits and playing only the old set songs into 1967 ('Days' wasn't even conceived as a possible idea until around April that year, though a couple of the songs were already written), and we even started to include comedy numbers in an effort to please some promoters (be careful who you are persuaded that you need to please – to please yourself is maybe the best way).…. Some people might claim that the sound changed as soon as the two 'new guys' came in, but in truth it didn't for several months, in fact it was the same or simply just not as good as it was before – However, and crucially, it was probably the making of us as a group. The five of us learned together that we needed to express ourselves sincerely, and that we should play and sing about what was important to us and hope that there would be an audience for us.
It wasn't until our 'road to Damascus' moment after the awful week at the Fiesta nightclub in Stockton when we hit the bottom, that we all agreed it was 'change or bust' – and right after that – Eureka! - we found the Melotron – and it all started to fall into place. The Beatles just did their own original songs. We followed at last, and made it! Looking back, what wonderful musical years they were.
The story of what happened in those early days is mildly interesting but probably only because the music that followed is interesting.  The music is the only thing to truly speak of what we were and are, and what I am. If you haven't already, have a listen.
Thank you so, so much for helping us get there to all of you who have shared that music along the way.
To bring things up to date, I absolutely loved doing the recent War Of The Worlds tour. I can't deny that the atrocious weather made the travel really scary for me sometimes, but in a way that made actually doing the gigs, in good shape, all the more enjoyable.
Jason Donovan and Rhydian Roberts were superb and they really lifted the show. I found myself standing in the wings on several nights, before and after I had sung 'Forever Autumn', just watching and enjoying the whole thing. It was great.
I know it's only Rock and Roll, but I was miffed that due to the unprecedented amount of snow and ice in the UK and Ireland, the collapse of my meticulously thought out in advance travel plan, meant that I had to get an overnight ferry from Dublin to Liverpool after our Belfast gig as my flight out of Ireland was cancelled, and then I was forced to abandon the car in the snow after the Newcastle concert and scramble to get on one of the few trains running for a week after that and make my way to gigs any way I could. (Actually driving through freezing fog was the worst bit after we recovered the car). If the travel was tough for me what was it like for that huge crew? Well, they were brilliant (maybe I should have just travelled with them?). They built that mega set like a huge jig saw puzzle every day ready for us to sound-check at four-o-clock, as well as making all of the artists comfortable and taking care of every detail. Can you imagine the perfection, under tough conditions, they had to achieve with all those special effects and pyrotechnics? Long may the show continue. There are so few productions of that scale and quality out there.
Lots of love
Justin
Then why should we turmoil in cares and in fears,?
Turn all our tranquill'ty to sighs and to tears?
Let's eat, drink, and play till the worms do corrupt us,?
'Tis certain, Post mortem?
Nulla voluptas.?
For health, wealth and beauty, wit, learning and sense, must all come to nothing a hundred years hence Thomas Jordan (1637)