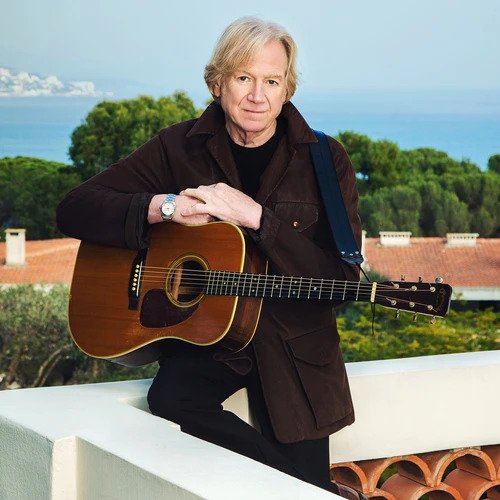 Thu, Jun 09, 11
Days of present just fine for Justin Hayward, Moody Blues
Some 40 years since the release of the 1967 album "Days of Future Passed" and the Moody Blues — with their distinctive fusion of rock/classical/pop — are showing no signs of losing steam. Their iconic hit "Nights in White Satin" just recharted (for the fourth time in 40 years) thanks to a episode of "X Factor UK." The band also is releasing a massive "greatest hits" CD collection in July. In town for the opening weekend of the Ravinia summerlong music festival, Justin Hayward, the guitarist/songwriter for the group, which has sold more than 70 million albums to date, recently talked to the Sun-Times.
Question: You've been touring for over 40 years. Any Moody Blues quirks?
Justin Hayward: I really don't think there are any. We just have accepted each other over the years. We do, however, always go on the stage in the same order: Graeme [Edge], me and then John [Lodge]. When Ray [Thomas] was with the band, he'd go on just before me. There's just logic in that. Drummer has to go on first because he has to get himself seated behind the drums and all that. And we always go on from stage left.
Q: What did you think about "Nights in White Satin" charting again thanks to "X Factor UK"?
JH: Matt [Cardle] sang it just brilliantly. When these shows are on, although the artist is important, what's also interesting are the songs they choose to sing, and as soon as they sing them people immediately want to know where the song came from, what's the original version like? In our case, because people were searching for Matt's version, it brought ours back onto the charts.
Q: What do you think about these music reality shows, such as "X Factor" and "American Idol"?
JH: Well, the contestant thinks it's about music and making it in the business. The television people think it's about celebrity, ratings and making money. You have to accept that with these shows, music is hijacked for reasons it was never meant for. These shows are not so genuine in their desire to find new talent. It's much better to do it as the other half of the musicians do: Be in a band, start writing your own material, create an identity and work hard at it. Then make great records and [the success] happens.
Q: Speaking of identity, did you guys plan out the unique sound that became the Moody Blues?
JH: There was no master plan. When we first started, we pretty much just thought about a week ahead. I think we still do that, to tell the truth. But what we did discover early on was that we were not a great R&B band, which is where our music started. I never felt it was genuine, the type of music we started out doing. So as soon as we started doing our own songs and we found the Mellotron, we were on our way.
Q: How do you keep the material and the shows fresh after all these years?
JH: It's never the same out there onstage because you never know how an audience will react. How the instruments will react to weather when you're outdoors. We do things from most of the albums on this tour but we've also introduced songs we never did live, such as "The Day We Meet Again" and "Meanwhile."
Q: You just turned 64, so to paraphrase a familiar tune, what's it like when you're 64?
JH: Not much happens when you're 64 [laughs] and when you get there, it's just the same as when you're 63. There was a great article in the Daily Telegraph about Bob Dylan turning 70 this year, and instead of the article asking why these old guys are still here, it was all about here's why they're still here. It was brilliant.
Q: What personal items are must-haves for you when you're on tour?
JH: Photos in my wallet and little notes. I have a knife, fork and spoon of my own that I must have when I travel. I bought them, and that's what I like to eat with. I take them to restaurants with me. Can't take them on planes anymore as check-on, though. It's part of my ritual. When I wake up, they're there. In every hotel, I have my own cutlery.
Q: Last year, the world lost Les Paul. Did you ever have a chance to work with him?
JH: Les Paul was a good friend to the end. We were guests at his house on our very first tour. He was interested in us because he knew we loved recording in proper stereo [sound]. Not even the Beatles were doing that yet; they were still using mono.
Q: What kind of guitar are you playing these days?
JH: I've got to play my 335 Gibson made in Kalamazoo, Mich., in 1963. Then I've got Collings guitars out of Austin, Texas. The most beautiful acoustic guitars in the world. Interestingly, when we first toured America, we did Cream's farewell tour as an opening act, actually. There used to be six or seven acts on the bill in those days. These young guys would tour America in a van or small truck and buy up all the great guitars from all over the place. And as we'd come off stage and go back to the dressing room, there'd be all these beautiful guitars they found all across the country just lined up and for sale. I bought a few of those. With six or seven acts, you've got probably 20 guitar players, so if you had the right guitar on display, you knew were gonna sell it that night.
Q: Do you name your guitars?
JH: No. But they're all male, curiously enough. I never understood that "Lucille" business.