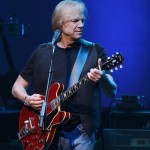 Fri, Oct 31, 14
Casinos: Rocker Justin Hayward is Hall-worthy
courierpostonline.com
The Rock and Roll Hall of Fame in Cleveland has become more than just a popular tourist attraction in a city that has a paucity of such places.
It's also become a lightning rod for criticism of the process that chooses and selects its annual list of nominees.
On the strength of their career statistics, longevity and influence on progressive rock, the Moody Blues — now in their 50th year of existence — should have long since earned a spot in the Hall.
The original cosmic cowboys of modern music have recorded 23 studio and live albums, 18 of which went platinum or gold. They've sold 70 million albums worldwide and, while their demographics skew mostly to the AARP crowd, they remain a relevant touring act that can quickly sell out a good-sized theater or small arena whenever a gig gets posted.
But in the eyes of the HOF nominating committee — led by Rolling Stone magazine co-founder and publisher Jan Wenner, who's made no secret of the fact he doesn't like prog rock — the Moody Blues haven't even had a chance. While bands that have had far less of an impact or influence in popular music and haven't sold one-tenth of the product have long since been enshrined in the hall, the Moodies haven't even been nominated for the honor.
But lead singer Justin Hayward isn't about to lose a minute of sleep over the snub. In 2012, he told Billboard magazine he feels sorry for fans of the band that have campaigned for the group's nomination for decades.
"I do feel for our fans, because it really is important to them," he said.
In fact, the British-born Hayward added, the HOF might be surprised to learn it doesn't have the caché in Europe that it does in the United States.
"As a British person and particularly a European, people have never heard of (the Rock and Roll Hall of Fame)," he explained. "It doesn't impact anybody. It's an American thing, really. If you want to run a hall of fame and get people coming through and it's a great tourist attraction, that's fine. But it doesn't impact me at all."
Take that, Jan Wenner.
Frankly, there are Moody Blues fans who believe just one song out of their extensive catalog should be enough to qualify them for the HOF: Hayward's "Nights in White Satin," one of the first pieces he wrote when he joined the group in 1967.
The song, which was released as a single several times, caught fire in 1972 when it reached No. 2 on the Billboard Hot 100 chart. Since then, it's been used in other mediums and has been included in more than a dozen motion pictures ranging from Martin Scorsese's "Casino" to Robert DeNiro's directorial debut with "A Bronx Tale" and Rob Zombie's fright flick "Halloween 2."
"It's a song that never seems to go away," said Hayward, 68, who will include the number when he performs solo Friday in Borgata's Music Box. "It was a slow build, and of course, it was released a few times, but once it took hold, it did so in a really big way. It seemed to get into people's minds and just stay there. The whole thing's very strange and wonderful."
Last month, Hayward told the web site musicradar.com that "Nights" changed his life and the lives of the band forever.
The song took shape one night after he returned to his one-room flat after a gig. He was under pressure to write something, because the rest of the band was expecting him to create a new song for their next live show.
The Moody Blues already had one hit to their credit, 1964's "Go Now." But that was three years earlier and with mostly a different lineup of musicians and a completely different sound.
"I sat on the side of the bed and wrote the basic two verses and two choruses with a 12-string acoustic," he said. "I took it to the rehearsal room the next day ... and I played it for them and they were like, 'Huh ... it's OK.' I don't think they were that thrilled."
But keyboardist Mike Pinder, a founding member of the band, heard something the others didn't. He asked Hayward to play the song again. As Hayward strummed the guitar, Pinder fired up the Mellotron — a forerunner to the musical synthesizer that relied on looped, pre-taped musical sounds.
"As I sang 'Nights in white satin ... ' he did that little 'da da da-da-da-da-daaa' on the Mellotron," Hayward said. "Then everybody (in the band) seemed to get interested. It made sense to them. Once he delivered that phrase, which is really quite important, the song started working for them."
The song was included on the Moody Blues groundbreaking album "Days of Future Passed," which was released around the time The Beatles were creating a subset of rock 'n' roll with their album "Sgt. Pepper's Lonely Hearts Club Band." Hayward admitted the Moody Blues drew plenty of inspiration from The Beatles.
"To be part of the musical scene in London during that whole period was amazing, and The Beatles were our leaders, undoubtedly," he said. "They showed us the way. 'Sgt. Pepper' and 'Strawberry Fields' and other songs they did at the time gave us the freedom to try anything."