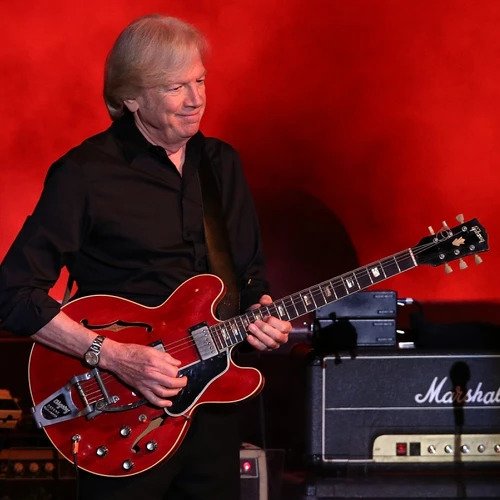 Wed, Sep 12, 12
"Best Incarnation Of the Moody Blues That I've Ever Been In"
Well into their fourth decade, The Moody Blues' music has endured incredibly well, with their classic songs regularly heard in commercials, television and film. Recently, "Nights In White Satin" was used in an early sequence in the Tim Burton helmed Dark Shadows .
Singer/songwriter/guitarist Justin Hayward says he was flattered by the use of the song in the film, but, due to a bad deal he signed with a publisher when he was younger, he doesn't have any control over where his songs are licensed. Still, he's proud that the song is popular among film directors and music supervisors. Besides Burton, at least one other legendary director has used it: "Martin Scorsese always liked it, he used it in Casino in a weird scene with Joe Pesci and Sharon Stone," he recalls, proudly.
Of course, the song is expensive to license, and occasionally directors want "Nights"… or a similar sounding, less expensive, version. "A few years ago, I was asked to do something for IMAX for a film about underground caves… They couldn't pay for the original ('Nights') so they asked for 'Another "Nights In White Satin."' Something that sounded like it!"
Having a recognizable sound can be a double-edged sword though. "It's nice to have pressure to do things," he agrees. "But I don't strive to do things that I've already done, or things like I've already done. I don't want to sound pretentious, but I can only do what I want to do now."
Indeed, making lots of money wasn't a foregone conclusion when Hayward joined the Moody Blues in 1966. The original version of the band had enjoyed one hit with "Go Now" but they could have just as easily been filed away with many other one-hit wonders of the era. "In truth, we all came together not knowing what would happen. In all of our minds was the possibility that we'd last a few months and fold. Because we were just not really good at the R&B thing that was set up by [original members] Denny Laine and Clint Warwick. We just weren't being true to ourselves. I went back to living at home."
They found their inspiration, and their path forward, with a single instrument. Founding keyboardist Mike Pinder re-discovered the mellotron, which changed the band's approach. They found one for sale at a social club, and quickly got the funds to purchase it.
"As soon as we set it up, it made the songs work. That was very exciting. That was in January or February of 1967. At that moment, we started getting a following. We threw away the matching blue suits, and did our own material."
The problem with the early Moody Blues, Hayward explains, was that they were trying to be an American R&B band. "We hadn't lived that life, " says Hayward. "We had to write about our lives. We were from lower middle class families. We wanted to get stoned and have some enlightenment. That was it. I hadn't gone through any hardships in the deep south of America, I couldn't honestly sing about it. I could sing about a middle class boy from Swindon who wanted to have some fulfillment in his life and didn't have any money. I could sing about that."
It was Hayward's experiences that fed into the writing of the band's second album (and his first with them), 1967's Days Of Future Passed, which celebrates its 45th anniversary this year. Hayward didn't predict the album's popularity or impact: "Days Of Future Passed was one of those accidents where everything comes together. I thought we were making an 'arty' album that would only be listened to by a minority of people. I couldn't have been more wrong!"
Later this year, the band will kick off a tour celebrating that album. While they remain one of the most consistently successful touring acts in America, they haven't released a new album since 2003's December, a Christmas record. Before that, it was 1999's Strange Times. So what are the chances of the band – which includes Hayward, longtime bassist/singer John Lodge and founding drummer/singer Graeme Edge – doing a new album?
"I don't know. There's material, but I don't know, that's the honest answer." Even if the band's discography has seen it's end, they still have a number of years on the road ahead of them: "This is the best incarnation of the Moody Blues that I've ever been in. I defy anybody to say 'Well, they weren't very good.' We're the best we could possibly be."
– Brian Ives, CBS Local