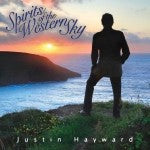 Fri, Feb 08, 13
Always Looking West: An Interview with Justin Hayward
Classicrockrevisted.com By Jeb Wright Photos by Marcus Way
 Justin Hayward, best known as a member of the iconic rock group The Moody Blues, has returned with his first solo album in nearly two decades. Spirits of the Western Sky sees Justin looking inward and writing about relationships.  This time out he is leaving the political and social questions for another day, another album.  Instead, he reflects back to his childhood when he would gaze at the western sky and dream of his musical heroes in America; one day hoping to become part of the scene.
As history has proven, Hayward's dreams did come true.  The Moody Blues had massive success with "Nights in White Satin," a tune Hayward wrote when he was only nineteen year old.  Then, against the odds, the band found themselves back on the charts in the 1980's.  They remain active to this day, touring the globe sharing their classic songs with their fans.
Hayward is happy with his new album.  It is emotional and sees him experimenting with different sounds, including bluegrass music. Hayward discovered bluegrass when recording in Nashville and incorporates the genre on three songs on the new album, the best of which is the song "What You Resist Persists." Don't expect him to be chewing tobacco and playing a banjo, however, as the new album still retains his classic sound and voice.
Read on as Justin discusses the new album in detail, as well as revealing the origins of some of his most famous songs, including "Tuesday Afternoon," "Question" and "Nights in White Satin."
--------------------------------------------------------------------------------
Jeb: Spirits of the Western Sky is your newest solo album.  You took 17 years between solo releases.  What took so long?
Justin: I was doing other things.  I did a couple of Moody Blues albums and some DVDs.  I've been on the road with the band for six or seven months during that time. All of that time, I was writing and collecting songs; some of these songs go back thirteen or fourteen years.  It is really only in the last few years that I've thought about pulling these songs together, professionally.
Jeb: One of the things that struck me, as a listener, was how well the album flowed.  That is ironic seeing as how long a period of time was taken between the creation of the songs.
Justin: The demos had certainly been around.  I was very lucky to find a little demo studio where this guy had these beautiful old microphones.  He had the same microphone that the guy at Decca used to use on my voice.  I started recording my voice as one of the first things on the demos, which is not the way it is usually done.  Usually, you do the backing tracks and then do the vocals.  I found that took a lot of pressure off of me. The professional recordings are quite recent, but some of the songs are very old.  It just shows you how it can go.  All I can say is, "Thank you" for that point of view; there is no point of belaboring it [laughter].
Jeb: You recorded much of the album in Italy.  You like recording there.  What is it about that studio that you enjoy?
Justin: We did the last couple of Moody's albums there.  I went there, this time, because I was invited to sing something on a soundtrack for an Italian film by a session guitarist, who is a friend of mine.  I did a couple of other things there that are just Italian things that nobody has ever heard of.  I liked the musicians.  I just fell in love with the ambiance. The more time I spent with my co-producer, the more I loved it. We did more and more Moody's stuff there.  We did all of the DVD's—three of them—that the Moody's put out for PBS there.  I just felt really comfortable. In truth, in London, studio time is really expensive; I don't know how anybody really does it.  It is different in Italy and it felt really nice.  We did some recording in Nashville and that was really nice too.
Jeb: Anne Dudley is a great musician.  She was responsible for the orchestrations on the album.  Tell me about her.
Justin: She was in a group called the Art of Noise in the '80's.  I have always been a fan of hers.  I worked on a Moody's record with a friend of mine, producer Alan Tarney, and he had worked with Anne.  She did the orchestration on that.  She is always so busy and she is always in demand.  I talked to her about doing a couple of things for my album and I expected her to say, "Justin…maybe…this is a definite maybe."  Instead, she just came right out and said, "Yes." She is very busy.  She is the girl who is sitting in the studio playing piano for the singers in the new movie Les Misérables.  She plays the piano so they can sing and perform live in that movie.  She was right in the middle of that.  I think she found it a relief to work with me because it was so much fun doing the orchestral sessions.  I think it took her out of herself for a couple of days.
Jeb: Tell me about the song "What You Resist Persists."  It is almost a country tune, but not quite.
Justin: I can't claim it is an original Justin Hayward phrase, because it is not.  I want to claim it, but I would be found out.  It is about this road that we're traveling and the dynamics of being with a group of people and recording, and the world that we live in. I played three tracks in Nashville with some bluegrass boys.  To be quite honest, I adored playing with those guys.  They just set up in the front room and do it.  They played it through and said, "Did you like it, or do you want to do it again?"  I said, "Let's just do it again just for fun." I was asked to do a showcase thing in Nashville a few years ago with Steve Winwood, Michael McDonald and Jimmy Webb.  I found that Nashville welcomed me as a songwriter with open arms.  I got to know people there and I got a few showcase things. There was a tribute album to the Moody Blues called Moody Bluegrass.  I started to understand the bluegrass rules.  There are no drums; that ruins it.  There is no electric guitar or bass.  You have to be able to do it in your parlor and that's the way it works.  It really appealed to me.  It was like when I was a kid.  You just get together and you play and it is every man for himself.  It is like a battle of the guitars; you've got to deliver on the spot, otherwise, it doesn't work.
Jeb: On this album you have personal songs and you have songs where you reflect on the world.  You can see the world and you can also write very personally.
Justin: I just sit in my little room and it becomes a little place of imagination.  The walls fade away and I can see for miles; it's a very personal thing.  I am shocked when somebody comes into that room and wants to have a listen.  I go to pieces as it is like a spell has been cast. In truth, during these recordings I did songs that had a social comment.  When I was recording the album, professionally and properly, I decided that I didn't have the right to say these things.  Maybe the Moody Blues have the right to say that, but I didn't.  I only had the right to say what was in my heart. This album is about relationships.  I find the older I get I am falling in love with people all over the place.  I am not going around embarrassing myself [laughter.]  I just enjoy meeting men and woman and spending time with them and sharing things with them.  These are the sort of things that I felt were honest and needed to appear on this record.  I left the social commentary behind.  I don't know if I will ever use it.
Jeb: What is the difference between a solo album and Moody Blues album?
Justin: With the Moody's you are saying something that a group of people can say and with a solo album it is just what you have to say.  Quite honestly, if we decided to do a Moody Blues album tomorrow I still would not use the songs I talked about earlier.  I would feel that I need to start with a blank sheet of paper.  When it comes down to it, the difference is music that I can play to the other guys and expect them to share in the moment.
Jeb: What is the plan for this album?  Will you tour?
Justin: I am going to give it a go.  I am going to a music business convention in France to meet some of the overseas distributors of Eagle Rock.  I will see what happens.  Our agent in America is sort of pressing me to do some things.  It is in the front of my mind.  I am hoping to share it.  Spirits of the Western Sky is my whole life at the moment.
Jeb: When you play your solo music live, is it more personal or even nerve-wracking than doing the hits with the Moody's?
Justin:  It is quieter and more serene.  It speaks from a different place and a different person.  It is wonderful.
Jeb: Let's talk about some of your most famous tunes.  I love "I Know You're Out There Somewhere."
Justin: We were working with Tony Visconti and we did the song "Wildest Dreams." I assumed when we were making the record that it would be a throwaway song.  Even before it came out people were going nuts about that song; it struck a chord with people, emotionally. A lot of people have had that experience where they want to know what happened to the first person they ever loved.  My advice to them is to not find out.  My thoughts are that you can never go home; you can never really go back. I brought the basics of that track in from my little home studio and then we did it properly with Tony.  He asked if I had more of that type of stuff and I had. I had a mega version of "Wildest Dreams" when I was working up the original track.  "I Know You're Out There Somewhere" was there.  It turned out to be one of the most popular songs that we do with the Moody's.  It is one of the most enjoyable songs for me to play when I am onstage.
Jeb: It made for a hell of a comeback.
Justin: It was such a wonderful time in our career.  We had a hit record and we were on MTV and all of that stuff.  It was the second time around for our career.  It was particularly nice because I wasn't quite as stoned as I was the first time.  I could really appreciate it.  I was forty years old and it was fantastic to have a record in the singles charts again.
Jeb: The comeback started with "The Voice."
Justin: It was the first thing that we recorded for Long Distance Voyager.  I used to feel a lot of guilt about our position in the world and that we were really privileged and that went into that song.  Long Distance Voyager was a huge milestone for us.  There have been a few: Long Distance Voyager and The Other Side of Life were massive. There was a time after the Octave album where we didn't quite know how to make things work.  We were all a bit nervous.  Long Distance Voyager really came together and we had a number one album.  "The Voice" and "Gemini Dream" were both hits off that album.
Jeb: Tell me about "Question."  I love the opening.
Justin: That was a song written under pressure.  There was a Moody session set at Decca studios on a Saturday.  At midnight that Friday I still didn't have anything for the session the next day.  I had parts of two songs that were in the same key but were vastly different. About four o'clock in the morning I thought, "Oh shit, all I can do is try to put them together and make them work, somehow."  I took it into the studio the next morning and I played it to the guys and they said, "That's great!"  They never even thought about it being two songs. It got to number one in a lot of the charts.  It was number two on the BBC charts.  It was really a wonderful time in the UK for us.  We got on the Isle of Wight Festival and we went down very well there because that song was all over the charts.  There is a lot of social commentary in that song.  I was reflecting what was happening in the college circuit that we were playing at the time.
Jeb: On "Tuesday Afternoon" it starts as a ballad and then it comes in with that nice poppy melody.  That sounds like two separate songs.
Justin: I have to be honest; I knew that we were going to do this stage show that was based on a day in the life of one guy.  I claimed the afternoon from the other guys.  I went down to my parent's home in the West Country and got a little bit stoned and sat inside of a field with my guitar.  I had a dog named Tuesday, as well, named after Tuesday Weld, who I really quite fancied. The song just came out.  I was determined to do something that went through two tempos.  I wanted to go from straight 4's to swing 4's.  When we recorded it, there was no double tracking or anything like that; it was a very easy thing to do. They chose it as a single in America over "Nights in White Satin," I felt a little bit guilty about that.  It seemed to work with the American audience and then "Nights" came along later so there was nothing to worry about.
Jeb: Was "Nights in White Satin" always such a grand song?  Were the movements and the orchestra always part of the blueprint of the tune?
Justin: It was not that way at all.  I came back from a gig one night and sat on the side of my bed—I was sharing a flat with Graeme [Edge, drummer of the band] at the time.  It was very early, it was almost light.  The verses of the songs just came out. I took it into the rehearsal room the next day and I played it to the rest of the group.  I got to the end of it and everybody was like, "Well, it's alright."  Mike Pinder said, "Play it again."  I played it again and he played the Mellotron line and suddenly everybody was interested.  He put that sort of orchestration to it and suddenly it worked. We were doing it in our stage set.  We recorded it for the BBC and we were in transit in our van and we heard it on the radio.  We had done the BBC program Easy Beat, who had live bands on.  We stopped the van and we all sat there and said, "That's fucking great." We hadn't realized until we heard it back—we'd never heard it played back.  We used to do these BBC shows and you were never invited into the control to listen to your performance.  You would play and they would say, "Bye, bye."  That is the first time that we realized there was something about it. Songs like that mean a lot to everyone in the band and to the fans.  Songs like "Seesaw," "Question" and "Nights" are wonderful things to share with an audience.  It takes people back to a place in time. A couple of years ago, somebody sent me an MP3 of "Nights in White Satin" by Bettye LaVette.  I was in bed one morning with my Mac and I opened it up and I clicked on this MP3 and thought it was just going to be another cover version—there have been loads of cover versions of that song—some not very good. I played her version and I just burst into tears.  I saw the song for the first time…I saw the song as I hadn't seen it since I was nineteen years old. My wife came in and said, "What has happened?"  I played it for her.  It was the most marvelous version that I had ever heard.  I understood every word of the song, almost for the first time.  One day I will meet Bettye and thank her.
Jeb: Let's wrap this up with a question about the new album.  Tell me why you named the album Spirits of the Western Sky."
Justin: Ever since I was a little boy, I've been attracted to the sunset.  Everyplace I have lived since I became a man I have tried to have a view of the western sky. When I was a little boy, I shared a room in the back of the house with my brother.  We lived in the West Country.  We had this amazing view of the western sky.  We could see the weather coming in because in England the weather comes from the southwest and we could see that way. The sky was vast out of this window as there was nothing and you could see for miles.  Our parents were both teachers and they were gone a lot. I could see all of our heroes in that western sky.  Nat King Cole and Bill Haley and all of these people were there.  It stayed in my mind.  My life has truly been spent looking at the western sky.