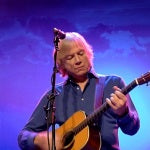 Mon, Dec 01, 14
I want to say a special thank you to the girls, ladies (and some chaps) that followed my tour and attended so many shows on my last solo run.
It meant everything to me.
'When you were there it made every show complete ..... When you were not you were missed'
We all braved some wild, and sometimes freezing weather to make those gigs, and that makes it even more special. You know I am a private person and I prefer to do my talking through my songs, but know that I am indebted to you all, and one day we'll meet up again, like the old days at Threshold, and talk, laugh and be all together.
Love,